Fabric pleating
Thanks to our extensive experience and well-qualified team of professionals we are able to provide the highest quality of our products and services. Before placing an order our clients are always offered sample pleating so that they can assess the final result.
We are able to advise our clients in terms of the selection of suitable fabrics or preparation of pattern. Our offer covers laser cutting of fabrics to be pleated. We can develop customised pleating moulds.
Soleil pleating – is the most popular type of pleating. The pleats are narrower in the top part, and wider in the bottom part. Depending of the design of the skirt (full circle skirt, half circle skirt, or quarter circle skirt) the final result is different. In this type of pleats it is necessary to prepare the pattern correctly. We can advise our clients and provide laser cutting of fabrics using equipment which prevents the fabric from fraying, thanks to which a skirt can be sewn without lining the bottom part. We have a number of pleating moulds and we are able to quickly accomplish the production order. The price for this service depends on the skirt length.

Box pleat – this type of flat pleating is recommended for wider pleats common for skirts.

Flat pleat – is it often used as insets in the skirts or dresses.

Fancy pleats – we are also able to manufacture customised pleats.

How the fabrics are pleated?
To perform hand pleating the pattern is placed in pleating moulds and then exposed to high temperature. In case of thicker fabrics, like the ones having wool in its composition, the fabric must be subjected to steam treatment first. Then stabilisation process occurs.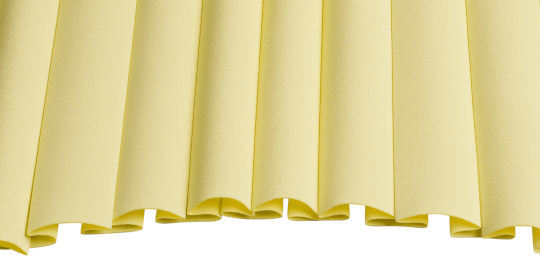 We do guarantee:
Competitive prices
The highest quality of our services and products promoted by our two-decades market presence
Professional advice
Timely delivery of orders