Laser
cutting of fabrics
We have a very big machine park comprising both small equipment and large machines with a working area ranging 160 cm x 300cm. Our design studio offers well-developed portfolio of patterns, but we are also able to develop new customised patterns according to the client's design.
Our company is unrivalled in terms of quality of services and time needed to accomplish production order. Sample cutting is performed free of charge, so that the final result could be assessed before placing an order.
While cutting the fabric with a laser device a laser beam prevents the fabric from fraying on its edge. In this case it is indispensable that the synthetic fibres form composition of the fabric.
It allows us to create beautiful, spatial outfits with fringes, flowers or feathers cut out of the fabric itself. The only limitation is your imagination.
We offer the service of cutting a wide range of fabrics using the laser. We can meet all challenges using this method.
Quality and precision:
Complex shapes – the laser is able to cut the most intricate designs
Edge shredding –laser cutting seals the fabric edges, so that the problem of shredding edges is eliminated
Precision cutting – pieces of material cut by the laser are very precise
Speed – cutting is incomparably faster than traditional methods
Efficiency – minimizes the amount of waste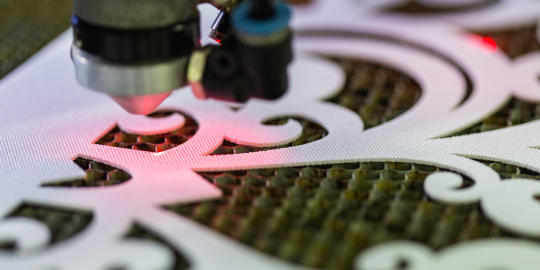 What distinguishes us?
Machinery – we have single or two-headed machines with varying sizes of work areas
Free samples
Our own graphic – design studio – where we work on designs free of charge
A lot of experience
Short deadlines
Competitive prices